International Yoga Day 2018
Report on International Yog day
Objective :
International Yoga day is celebrated worldwide to create awareness about innumerable benefits of Yoga. Yoga provides a holistic approach to health and well-being. Yoga also brings harmony in all walks of life and thus, is known for disease prevention, health promotion and management of many lifestyle related disorders.
Details :
International Yog day was celebrated on 21st June 2018.There were 120 participants including 67 faculty members from various departments,33 staff members and 20students. 2 faculty members (Ms.Anvita Birje and Ms.kalawati Patil) and one student (Miss.Sachi from TE ETRX) demonstrated CYP for participants for guiding them. There were 8 faculty members and 15 staff members who supported this programme to make it successful. It was conducted as per 'Common Yoga Protocol'. The flow of programme was as given below:
COMMON YOGA PROTOCOL
Introduction :
Information about IYD and briefing about Yoga and meditation,important tips for practitioner
Prayer :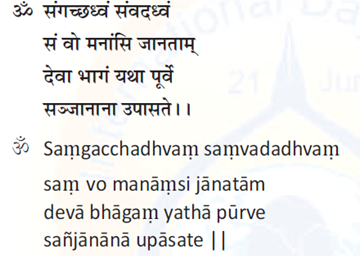 May you move in harmony; may you speak in unison; let our mind be equanimous like in the beginning; let the divinity manifest in your sacred endeavours.
Chalan Kriya/ Loosening Exercises :
Neck Movements (left,right,circular)
Trunk Movements (right ,left),Shoulder Movements
Backward bending,Knee Bending
Asanas :
a. Standing Postures
(Tadasan,Vrikshasan, paadHastasan –forward bending,Trikonasan)
b. Standing Postures
(Dandasan-Starting pose,Bhadrasan, paschimottanasan,vakrasan, Vajrasan Shashankasan, ardhaushtrasan,)
c. Standing Postures
(Bhujangasan, Dhanurasan ,Shalabhasan, ,Makarasan)
d. Standing Postures
( Setubandhasan,Pavanmuktasan, Cycling, twisting, Shavasan)
Pranayam :
(Dhyan mudra,deep breathing,Kapalbhati,AnulomVilom, Bhramari ,Omkar,Dhyan)
Sankalpa :
I commit, to make myself into a healthy, peaceful, joyful and loving human being. Through every action of mine, I will strive to create a peaceful and loving atmosphere around me. I strive to break the limitations of who I am right now and include the entire world as my own. I recognize the kinship of my own life with every other life. I recognize the unity of all there is.
Shantipath
Programme ended with shantipaath and sankalp.
Glimpses of IYD 2018
Videos of IYD 2018