International Yoga Day 2019
Report on International Yog day
Objective :
International Yoga day is celebrated worldwide to create awareness about innumerable benefits of Yoga. Yoga provides a holistic approach to health and well-being. Yoga also brings harmony in all walks of life and thus, is known for disease prevention, health promotion and management of many lifestyle related disorders.
Details :
International Yog day was celebrated on 21st June 2019 in Thakur College Of Engineering &Technology. There were 57 participants including 43 faculty members+ nonteaching staff and 14 students. 2 faculty members (Ms.Anvita Birje and Ms.Kalawati Patil) and one student (Miss.Sachi Singh from TE ETRX) demonstrated CYP for guiding the participants. There were 8 faculty members (NSS,EWT and WDC) along with sports instructors who supported this programme to make it successful. It was conducted as per 'Common Yoga Protocol'.

Ms.Poorva Waingankar started the programme with welcoming of participants. Then Information about IYO was given .The importance of Yoga Practice and meditation was explained .Also important tips for practitioner were shared .
The flow of programme was as given below:
COMMON YOGA PROTOCOL
Introduction :
We all know that the thrust of the !DY observation on 21st June is on harmonious mass yoga demonstrations in which millions of people participate around the globe: at thousands of venues. When participation of people is on such a massive scale, there has to be some serious planning behind it, if the demonstration is to be in harmony. Some of the most accomplished yoga gurus of India came together to address this issue. They developed the Common Yoga Protocol (CYP) for this purpose, which is essentially a specified sequence of Yoga Asanas of 45 minutes duration.The Asanas and practices forming part of the CYP are selected in such a way as to yield the maximum health & wellbeing rewards to a diverse group of people from different profiles of health, age etc.
Experts are of the view that beginners can learn CYP in about 15 sessions of one-hour duration each.
Prayer :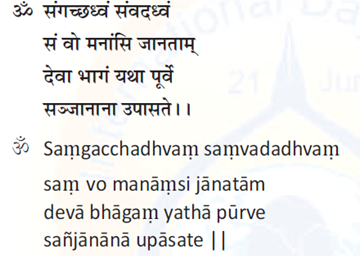 May you move in harmony; may you speak in unison; let our mind be equanimous like in the beginning; let the divinity manifest in your sacred endeavours.
Chalan Kriya/ Loosening Exercises :
Neck Movements (left,right,circular)
Trunk Movements (right ,left),Shoulder Movements
Backward bending,Knee Bending
Asanas :
a. Standing Postures
(Tadasan,Vrikshasan, paadHastasan –forward bending,Trikonasan)
b. Standing Postures
(Dandasan-Starting pose,Bhadrasan, paschimottanasan,vakrasan, Vajrasan Shashankasan, ardhaushtrasan,)
c. Standing Postures
(Bhujangasan, Dhanurasan ,Shalabhasan, ,Makarasan)
d. Standing Postures
( Setubandhasan,Pavanmuktasan, Cycling, twisting, Shavasan)
Pranayam :
(Dhyan mudra,deep breathing,Kapalbhati,AnulomVilom, Bhramari ,Omkar,Dhyan)
Sankalpa :
I commit, to make myself into a healthy, peaceful, joyful and loving human being. Through every action of mine, I will strive to create a peaceful and loving atmosphere around me. I strive to break the limitations of who I am right now and include the entire world as my own. I recognize the kinship of my own life with every other life. I recognize the unity of all there is.
Shantipath
Programme ended with shantipaath and sankalp.
Glimpses of IYD 2019