About HOC CELL
In this competitive and fast-paced world, planning and decision making plays a very important role for students to choose the right career. Thus, TCET has established the Higher Education, Online Courses & Certification Cell (HOC Cell) in order to help student to understand his/her final dream and make the right career decision in a sensible manner. HOC section in-charge and one coordinator from each of the core departments have been given the responsibility of managing this Cell.
Objectives of HOC cell
The prime objective of the HOC Cell is to encourage students for higher qualification such as pursuing master level program in India and abroad, graded online courses and professional certification courses.
To provide a road map to the students and guiding them on important concerns like: "where to apply, how to apply and who can apply" for various higher education programs /online courses/professional certification course.
To guide and motivate students to take up various Competitive Examinations like CAT, GATE, GRE, IELTS, A1/A2 & TOEFL and arrange mock test for the same.
To help the student to build letter of recommendation (LOR), statement of purpose (SOP) and profile building.
To arrange various seminars/workshops by various foreign university representatives/counselor.
To conduct TCET-NPTEL (SWAYAM) local chapter for various online certification courses.
To conduct training for various professional certification courses.
Activities of HOC cell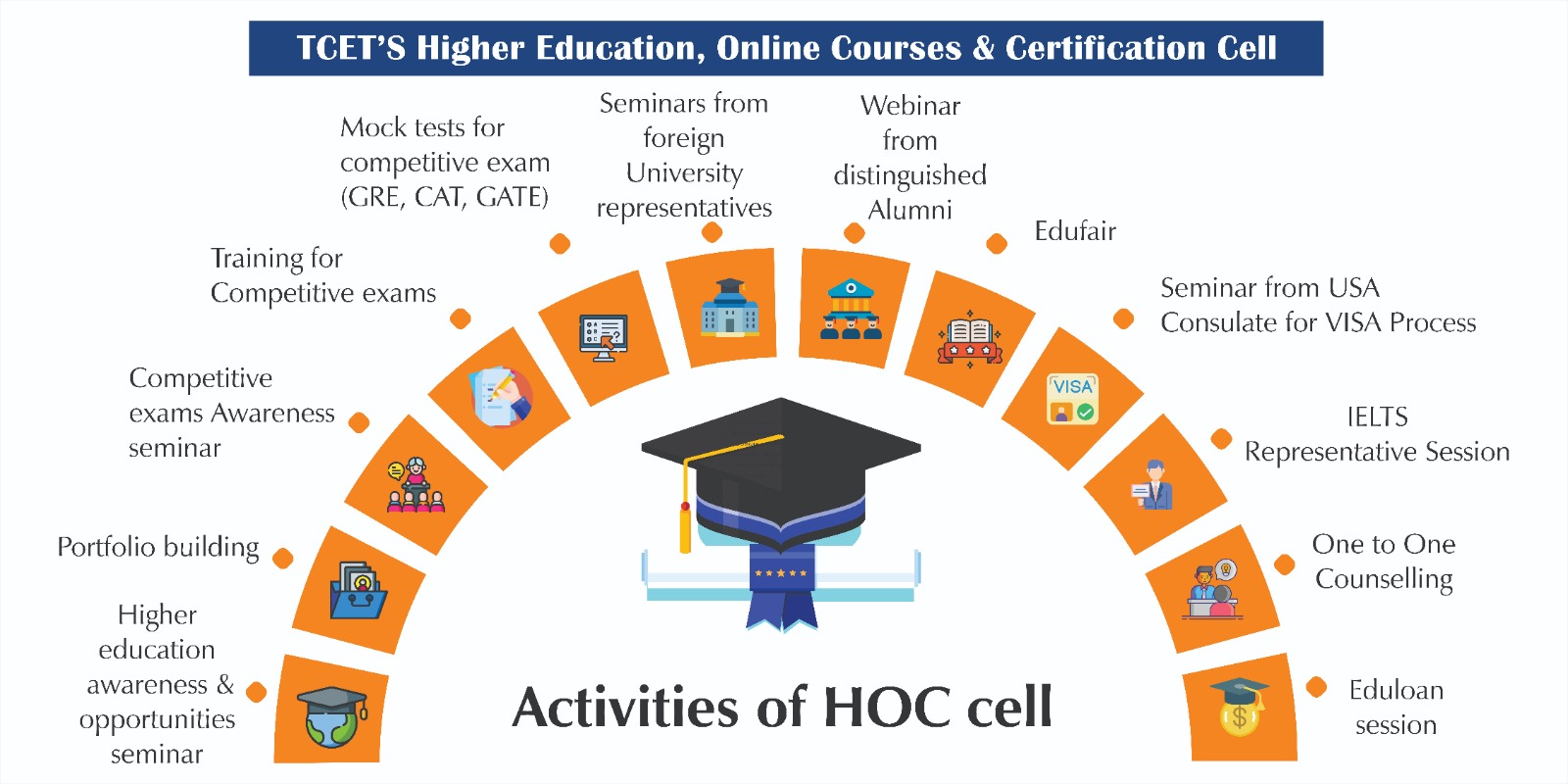 Student Support from TCET's HOC Cell

Highlight of TCET's Alumni(Higher Education)

Departmental HOC Faculty Co-coordinators
| Sr.No | Faculty | Department |
| --- | --- | --- |
| 1. | Dr. Anil Vasoya (HOC In-charge) | IT |
| 2. | Mr Vinay Bhatkar | MECH |
| 3. | Mrs Veena Hosamani | E&CS |
| 4. | Mrs Foram Shah | COMP |
| 5. | Dr. Shailendra Shastri | EXTC |
| 6. | Mr. Vinayak Bachal | CIVIL |