---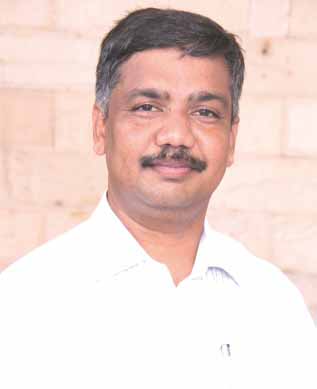 The department of Information Technology, started its journey in the year 2002 and is committed to deliver the program with rigor and with active industry participation. Department has 120 seats intake at first year and 24 seats as lateral entry at 2nd year for engineering diploma students. The department believes in student centric approach. Its dedicated team of faculty members inculcate relevant knowledge, skills and attitude in students to become successful professionals. The U.G. programme is accredited by National Board of Accreditation (NBA), New Delhi for three years w.e.f. 16.09.2011. UG Programme has been re-accredited for 3 years by NBA w.e.f 1st July 2016. Also the programme is permanently affiliated with UOM since AY 2015-16 onwards.
Dr. Rajesh Bansode
Professor & Head of Department
---
Department Vision
"The Department of IT will strive to be at the top position among the renowned providers of IT education"
Department Mission
The IT Department is committed to enrich students by rigorously implementing quality education with a focus to make them industry ready, while imbibing in them professional ethics and social values to become responsible citizens.
Programme Educational Objectives
| | |
| --- | --- |
| PEO1 | To enable learners to gain a broad background across fundamental areas of information technology along with a depth of understanding in a particular area of interest within the domain of information systems. |
| PEO2 | To prepare learners for effectively using modern programming tools to solve real life problems. |
| PEO3 | To prepare learners for successful career in Indian and multinational organizations. To identify and evaluate current and emerging technologies. To assess their applicability to address the users' needs and recognize the need for continued learning and motivate students to pursue it throughout their career and higher studies. |
| PEO4 | To encourage and motivate Learner's for Research &Development and entrepreneurship. |
| PEO5 | To inculcate independent critical thinking, problem solving and leadership skills, with an ability to analyze the impact of technology on individuals, organizations and society including professional, ethical, legal and public policy issues. |
| PEO6 | To encourage Learner to use best practices and implement technologies to enhance information security and enable compliance, ensuring confidentiality, information integrity, and availability. |
| PEO7 | To develop excellent written and oral communication skills to effectively interact with clients, users, co-workers and managers. To Collaborate and work in teams to accomplish a common goal by integrating personal initiative and group cooperation. |
Programme Outcomes
| | |
| --- | --- |
| PO1 | An ability to apply knowledge of computing, mathematics, science and engineering fundamentals appropriate to the discipline. |
| PO2 | An ability to analyze a problem, and identify and formulate the computing requirements appropriate to its solution. |
| PO3 | An ability to identify and analyze user needs and take them into account in the selection, creation, evaluation, administration and effective integration of IT-based solutions into the user environment. |
| PO4 | An ability to design and conduct experiments, research and development activity in computing and IT. |
| PO5 | An ability to use and apply current techniques, concepts, skills, and modern tools necessary for computing practice. |
| PO6 | An ability to analyze the local and global impact of computing on individuals, organizations, and society. |
| PO7 | An understanding of the impact of sustainable development and engineering solutions in a global, economic, environmental, and societal context. |
| PO8 | An understanding of professional, ethical, legal, social, cultural, security issues and responsibilities. |
| PO9 | An ability to function effectively individually and on teams, including diverse and multidisciplinary, to accomplish a common goal. |
| PO10 | An ability to communicate effectively with a range of audiences. |
| PO11 | Recognition of the need for and an ability to engage in continuing professional development and pursuing Higher Studies. |
| PO12 | An understanding of engineering and management principles and apply these to one's own work, as a member and leader in a team, to manage projects with an understanding of best practices and standards and their application. |
Programme Specific Outcomes
| | |
| --- | --- |
| PSO1 | To develop the culture of augmenting existing technologies to create scalable IT solutions. |
| PSO2 | To combine various technologies like IoT, Cloud and Analytics to provide integrated solutions to real time problems of government /industries. |
| PSO3 | To master in moulding any problem into a web/internet based solutions. |
Major Subjects
Basic Engineering: Logic Design, Principles of Communication, Database Management Systems, Java Programming Lab, Data Structure and Analysis, Computer Organization & Architecture.
Core Engineering: System & Web Security, Distributed Systems, Web Programming, Computer Networks, Operating System, Automata Theory, Computer Graphics & Virtual Reality, Open Source Technologies, Software Engineering.
Advanced Engineering: Advance Database Management System, Data Mining & Business Intelligence, Advance Internet Technology, Software Project Mgmt, Storage Network Management & Retrieval.
Application based : Wireless Technology, Cloud Computing, Intelligent System, Computer Simulation and Modelling, e-Commerce & e-Business, Big Data Analytics, Software Testing & Quality Assurance.
Highlights
Year of Starting of Programme
: 2001-2002
Year of establishment
: 2002-2003
Program offered
: 4 years B.E. (I.T.) , 2 years M.E (I.T.)
Faculty strength
: 29
Departmental Library
: 434 books and 331 project reports
No. of batches graduated
: 11
Success rate
: 84.77%
Professional chapter
: ACM-TCET
Student membership
: CSI, IEEE, NSS,IETE,ACM,ISTE
Number of Labs
: 08 + 01 P.G. Lab
Number of Class rooms
: 06 + 01 P.G. Classroom
Common Facilities
: Seminar Hall,Multipurpose room,Digital Library
Publications
"E-Zine" Department's E-Magazine
Programme Resource Book
Course Resource Book
Result Highlights
Toppers list
Name of the student
Percentage
Year
Ms. Suvarna Divya Giridhar
CGPI- 9.17
May-2016
Ms. Mrunmayi Shirodkarl
78.00%
May-2015
Ms. Hemali Jayanti Patel
78.73%
May-2013
Mr. Ratnesh Singh
79.60
May-2012
Ms. Abhinaya B. Shetty
(3rd rank in University)
80.93
May-2011
Ms. Shreya Khandelwal
(2nd rank in University)
81.93
May-2010
Ms. Surabhi Khandelwal
(1st rank in University)
83.00
May 2009
Ms. Prachi G. Palekar
76.73
May-2008
Ms. Shruti A. Poddar
75.93
May-2007
Ms. Prajakta P. Nikumb
77.87
May-2006
Ms. Dimple A. Parekh
73.93
May-2005
Best Practices (Student-Centric)
Special Doubt Clearing Session for students in each subject
Academic delivery as per the curriculum of UOM
Continuous monthly monitoring of attendance
Teacher-Guardian scheme to counsell the students
Orientation programs/ seminar/ workshops, industrial visits etc. for students
Domainwise activity for staff & students
UG and PG Students work on mini & minor projects to develop practical concepts
ME & BE projects based on research papers such as IEEE
Quality Improvement Programme and R&D acivities
Industry-institute interaction
IITB training on latest technology
Doubt clearing session
Faculty Highlights
Publication
Publications
Number of Faculty members
Number of Publications
ICWET Publication
25
106
International/National Journals
23
50+
National Conferences / International Conferences
27
98
Book Publication
06
16
Modules Publication
27
106