Anti - Ragging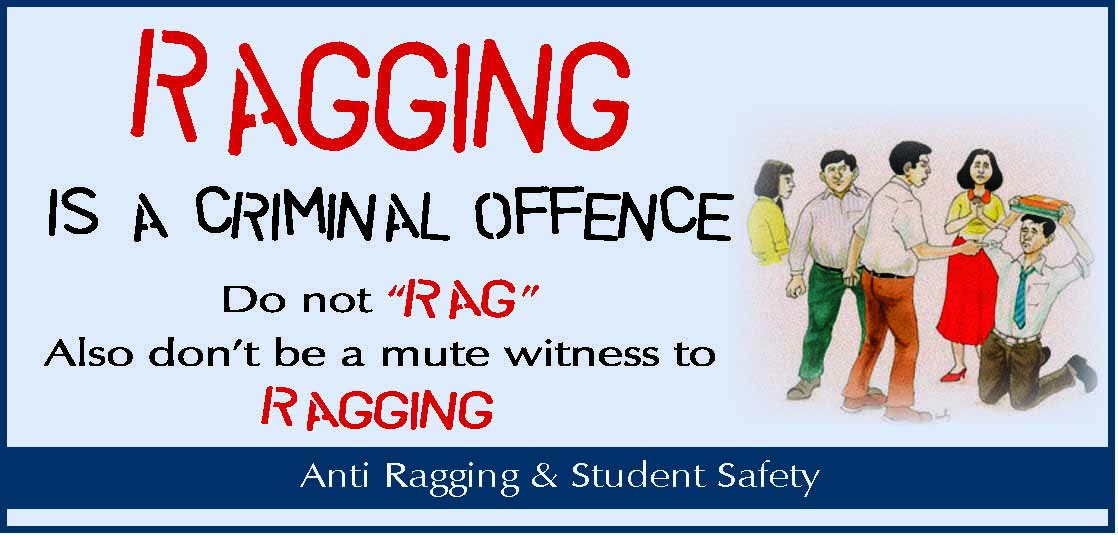 AICTE Notification
As per the notification of All India Council for Technical Education (AICTE) dated 25.03.2009 in connection with prevention and prohibition of ragging in technical institutions, universities including deemed to be universities imparting technical education, notify that :
All the concerned persons are requested to make note that ragging is totally banned and anyone found guilty of ragging and/or abetting ragging is liable to be punished.
Maharashtra State Act against ragging
Maharashtra Prohibition of Ragging Act 1999 which is in effect from 15th May 1999 has the following provisions for Action against Ragging:
Ragging within or outside of any educational institution is prohibited.
Whosoever directly or indirectly commits, participates in, abets, or propagates ragging within or outside any educational institution shall, on conviction, be punished with imprisonment for a term up to 2 years and/ or penalty which may extend to ten thousand rupees.
Any student convicted of an offence of ragging shall be dismissed from the education for five years from the date of order of such dismissal.
Whenever any student or, as the case may be, the parent of guardian or a teacher of an educational institution complaints, in writing, of ragging to the head of the educational institution, the head of educational institution shall, without prejudice to the foregoing provisions within seven days of the receipt of the complaint, enquire into the matter mentioned in the complaint and if, prima facia, it is found true, suspend the student who is accused of the offence, and shall, immediately forward the complaint to the police station having jurisdiction over the area in which the educational institution is situated, for further action. Where on enquiry by the head of the educational institution, it is found that there is no substance, prima facie, in the complaint received; he/she shall intimate the fact, in writing, to the complainant. The decision of the head of the educational institution shall be final.
If the head of the educational institution fails or neglects to act in the manner specified in section "d" above when a complaint of ragging is made, such person shall be deemed to have abetted the offence and shall, on conviction, be punished as provided for in section "b" above.
Ragging Prevention at TCET
Anti ragging squad is constituted as per AICTE guidelines
Names, telephone nos. of authorities have been put on web site. In case of any emergency student can contact the authority or hostel warden
Staff members do the necessary counselling from Time-to-time Sensitize
Surprise / Routine visits to hostel, College canteen, common room & other sensitive area by the committee members
Anti - Ragging Committee Members
Sr. No.

Member

Designation

Committee

I
Dr.B. K. Mishra
Principal
Head of the Committee
2
Dr.Kamal Shah
Vice-Principal, Dean (R&D), Head B.Tech.(AI  & ML)
Member (faculty)
3
Dr.Lochan Jolly
Professor & Dean (Student & Staff Welfare)
Member
(staff & Student  welfare)
4
Dr. R. R. Sedamkar
Professor & Director IQAC-NAAC, HOD (Ph.D.)
Member (Faculty)
5
Dr.Sanjay Kumar
Adjunct Professor, Mentor MECH, CIVIL, Controller of Examination
Member (Faculty)
6
Mr. Naushad  Pathan
PSI, Anti Terrorist Cell, Mumbai  Police
Member (Police Administration)
7
Mr.Wasim Shaikh
Journalism, Sr.Manager  Mktg.(Media),DNA
Member (Local  Media)
8
Mrs. Nisha Malawat
NGO-Abhilasha  Foundation  Laxmi Chhaya Bungalow, Plot No.27, RSC 11, Gorai-2, Borivili (W). Mumbai -  400 09 I.
Member (NGO)
9
Mr. Om Hinge
Student of SE-COMP-A
Member (Fresher student)
10
Mr. Dheerav Nahar
Student of TE-CIVIL-A
Member (Senior student)
11
Ms. Roshni Kini
Student of BE-E&TC-A
Member (Senior student)
12
Mr. Jagdish  Mishra
Father of Ms. Janhavi  Mishra, Student of BE-IT-A
Member (Parent)
13
Mr. Ashish Shrma
Father of Akshta Sharma, Student of BE- ELEX
Member (Parent)
14
Mr. Vijay Angawalkar
Father of AdvaitAngawalkar, Student of TE- MECH-A
Member (Parent)
15
Ms.Aradhana  Manekar
Head activity students mentor & grievances
Member (Faculty)
16
Mr.Sameer Ghosalkar
Sr. Clerk
Member (Non-Teaching Staff)
17
Mr.Rajesh Singh
Hostel Warden
Member (Non-Teaching Staff)
Anti - Ragging Squad Members
Sr. No.

Member

Designation

Committee

1.
Dr. Rohit Kumar Singh
Deputy F.E. In-charge,Assistant Professor, ES&H
Member (Faculty)
2.
Mr. Deepak Shete
Assistant Professor - E&TC
Member (Faculty)
3.
Mr Rupesh Deshbhratar
Assistant Professor - MECH
Member (Faculty)
4.
Mr. Somnath Chinchkar
Assistant Librarian
Member (Non-Teaching Staff)
Note: Ragging Complaints Registration: National Anti-Ragging Helpline 1800-180-5522 (24x7 Toll-Free) or e-mail to helpline@antiragging.in today.
MANAS - A Toll-Free Mental Health Helpline: Toll-free numbers 14416 and 1800-891-4416