---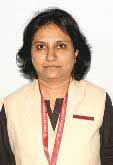 Recent years have seen tremendous increase in the demand for Civil Engineering which is mainly because of the exponential growth in the sector of infrastructure and the allied industry. This has also added to the increased demand in R & D and education sector. Responding to the need of the hour, the institute has started the department of Civil Engineering from the academic year 2014-15, with an intake of 120 seats. Therefore batch will reach to second year in the current A.Y. 2015-16 and therefore department of civil engineering is established in the current Academic year. The department is committed to nurture rigor for academics, co-curricular and extra-curricular activities amongst its students and is confident of becoming at par with the established departments in the institute.
Dr. Seema Jagtap
Associate Professor & HOD
---
Department Vision
"To become a department of national relevance in the field of Civil Engineering."
Department Mission
The department of Civil Engineering is committed to provide undergraduate students with sound knowledge in the field of civil engineering, and build in them leadership and managerial skills along with inculcating the culture of lifelong learning and social sensitivity.
Programme Educational Objectives
| | |
| --- | --- |
| PEO1 | To prepare learners with a sound foundation in the mathematical, scientific and engineering fundamentals. |
| PEO2 | To prepare learners to use modern tools effectively to solve real life problems. |
| PEO3 | To prepare learners for successful career in Indian and multinational organizations, and to excel in postgraduate studies. |
| PEO4 | To encourage and motivate learners for self-learning. |
| PEO5 | To inculcate professional and ethical attitude, good leadership qualities and commitment to social responsibilities in the learners. |
| PEO6 | To prepare students by bridging the gaps between the curriculum and industries requirement. |
Programme Outcomes
| | |
| --- | --- |
| PO1 | Apply knowledge of mathematics, science, engineering fundamentals and an engineering specialization to the solution of complex engineering problems. |
| PO2 | Identify, formulate, research literature and analyze complex engineering problems reaching substantiated conclusions using first principles of mathematics, natural sciences and engineering sciences. |
| PO3 | Design solutions for complex engineering problems and design system components or processes that meet specified needs with appropriate consideration for public health and safety, cultural, societal and environmental considerations. |
| PO4 | Conduct investigations of complex problems using research based knowledge and research methods including design of experiments, analysis and interpretation of data and synthesis of information to provide valid conclusions. |
| PO5 | Create, select and apply appropriate techniques, resources and modern engineering and IT tools including prediction and modelling to complex engineering activities with an understanding of the limitations. |
| PO6 | Apply reasoning informed by contextual knowledge to assess societal, health, safety, legal and cultural issues and the consequent responsibilities relevant to professional engineering practice. |
| PO7 | Understand the impact of professional engineering solutions in societal and environmental context and demonstrate knowledge of and need for sustainable development. |
| PO8 | Apply ethical principles and commit to professional ethics and responsibilities and norms of engineering practice. |
| PO9 | Function effectively as an individual, and as a member or leader in diverse teams and in multi disciplinary settings. |
| PO10 | Communicate effectively on complex engineering activities with the engineering community and with society at large, such as being able to comprehend and write effective reports and design documentation, make effective presentations and give and receive clear instructions. |
| PO11 | Recognize the need for and have the preparation and ability to engage in independent and life-long learning in the broadest context of technological change. |
| PO12 | Demonstrate knowledge and understanding of engineering and management principles and apply these to one's own work, as a member and leader in a team, to manage projects in multidisciplinary environments. Engineering Graduate Attributes |
Programme Specific Outcomes
| | |
| --- | --- |
| PSO1 | Able to develop academic aptitude and apply knowledge of mechanics and mathematics to real problems and thereby design and develop techniques. |
| PSO2 | Ability to enhance research skills and utilize advanced computing tools for analysis, design and implementation of these systems for resolving real life / social problems |
| PSO3 | Ability to utilize multidisciplinary knowledge required for satisfying industry / global requirements and hence develop an attitude for life-long learning. |
| PSO4 | 4 Ability to have all round personality with skills like leadership, verbal & written communication , team work, sensitivity towards society in order to become valued & responsible professionals. |
Major Subjects
Basic Engineering:Engineering Mechanics, Applied Mathematics, Engineering Drawing, Fluid Mechanics, Strength of Materials etc.
Core Engineering:Building Materials and Construction, Concrete Technology, Engineering Geology, Structural Analysis, Building Design and drawing, Construction Engineering etc.
Advanced Engineering: Construction Management, Environmental Engineering, Quantity Survey, Estimation and costing, Advanced Structural Analysis, Advanced Foundation Engineering, Pavement Subgrade & Materials, Air Pollution, Prestressed Concrete etc.
Application based :Structural Dynamics, Risk and Value Management, Applied Hydraulics, Reinforced Concrete Repairs and Maintenance, Traffic Engineering and Control, Advanced Computational Techniques etc
Highlights
| | |
| --- | --- |
| Year of starting of programme | : 2013-14 |
| Year of establishment | : 2014-15 |
| Program offered | : 04 years B.E. in CIVIL ENGINEERING |
| Faculty strength | : 21 |
| Professional chapter | : ASCE(in Process) |
| No. of Batches graduated | : First batch will pass in 2017-18 |
| Student membership | : ASEC |
| Number of Labs | :10 |
| Number of Class rooms | : 6 |
| Common Facilities | : Seminar Hall-01,02,03,Digital Library |
Toppers list
Sem - 6th
Sr.No
Name of student
GPA
1
Rawal Meet Hemantkumar Devyani
9.86
2
Choudhary Harshal Anil Suman
9.82
Vora Mihir Lalit Kumar Rupali
9.82
3
Bhanushali Umang Hariram Vimla
9.75
4
Mistry Hitesh Jethmal Sharda
9.57
5
Patel Tej Jayant Sharda
9.54
6
Mahimkar Omkar Vinod Varsha
9.43
7
Joshi Jaikishan Nandkishore Savita
9.32
8
Koli Chetan Anil Yogita
9.21
9
Dwivwdi Ajay Ashok Meena
9.11
Sheikh Abdul Qadir Gulam
9.11
10
Naik Saureen Rajesh Smita
9.00
Sem - 4th
Sr.No
Name of student
GPA
1
DHOBI SACHIN JAIRAM MITHILES
9.71
2
SHAH KEYUSH MANISH PARUL
9.23
3
BARANWAL RUPALI SANGAMLAL PUNAM
9.13
4
WAGHELA MITESH NARESH MEENA
9.08
5
RANE MANASI BHALCHANDRA BHAGYASHREE
9.04
6
CHOUDHARI MOHAMMAD SAHIL 
8.9
7
RATHOD SHUBHAM SATISH SHARMILA
8.81
8
MISTRY ZAID ABDUL AZIZ AMINA
8.79
9
BHONDVE KUNAL POPAT PUSHPA
8.69
10
MITHAIWALA PARTH PARESH MANISHA
8.67
Best Practices (Student-Centric)
Academic delivery as per the curriculum of UOM
Continuous monthly monitoring of attendance
100% syllabus Coverage & Remedial coaching
Teacher-Guardian scheme
Orientation programs/ seminar/ workshops, industrial visits, expert lectures etc.
Training / ISO awareness programme
Mini-projects and presentation to develop practical approach
Quality Improvement Programme and R&D activities
Industry-institute interaction.
Student Development Programme (SDP)- Training to bridge the gap between curriculum and industry requirements.
Training / workshop / seminars / conference-To update students with the current trends and emerging challenges and also to improve their skills for technical writing.
Quality improvement programmes and R&D activities-To nurture professional growth of students with creative and innovative mind which will prepare the mind set of students for life long learning.
Faculty Profile