SAE-TCET
SAE International is a US-based Society of Automotive Engineers. It is dedicated for the advancement of mobility community and trasport industries such as automotive, aerospace and commercial vehicles. To bridge the gap between industry and academia, SAE India -TCET is a students' chapter formed in A.Y. 2017-18. This is the second professional body associated with 1 Department of Mechanical Engineering. The main objective of SAE India -TCET is to provide students with a platform for enhancing their professional and engineering skills beyond curriculum. It is run by 52 student members and guided by two faculty advisors.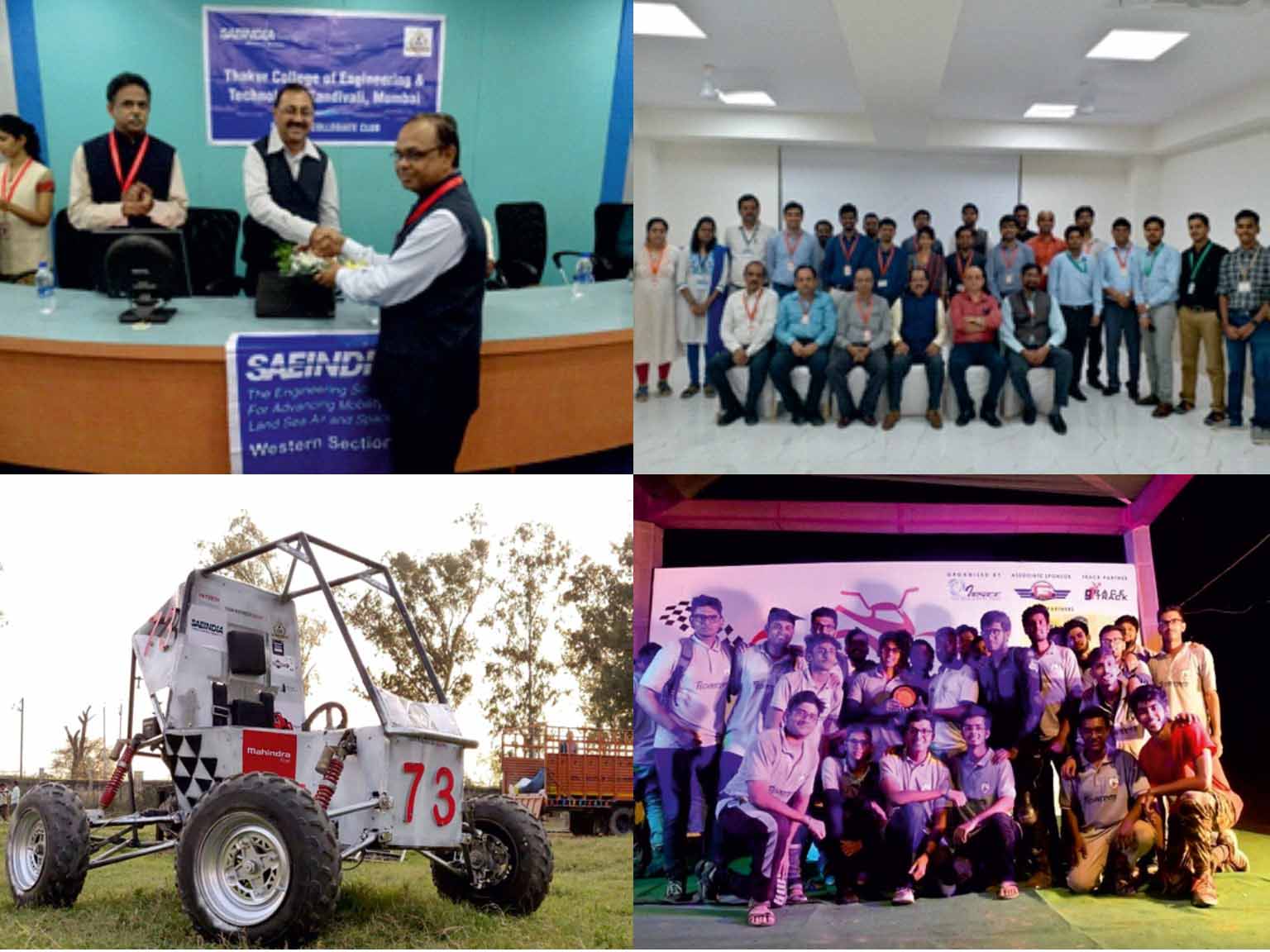 Important activities
| Activity | Date |
| --- | --- |
| | |
| Technical Seminar on "Cast your future with castings | July 2018 |
| Technical Quiz | August 2018 |
| Seminar on "Opportunities for higher studies abroad" | August 2018 |
| Quad-Tore 2018 | September 2018 |
| Technical Poster Presentation Competition | September 2018 |
| BAJA SAE India 2019 | March 2019 |
| Aero Design Challenge 2019 | July 2019 |
Future plans
To organize workshops and seminars related to the latest technologies in automobile and mechanical engineering domains.
To organize technical fest on larger scale with much more competitive events and increase contribution of students in these events.
To participate in Quad Tore 2019, Aero Design 2019
Achievements
Secured All India Rank 51 st amongst 380 teams in Virtual Round of BAJA SAE India 2019 held at Chitkara University, Chandigarh. Qualified for Main Round to be held at IIT Ropar, Roopnagar, Punjab in March 2019.
Working Committee
| Faculty | |
| --- | --- |
| | |
| Senior Faculty Advisor | Dr. Sanjay Kumar |
| Additional Faculty | Mr. Sachin Oak |
| Student | |
| --- | --- |
| | |
| Chairperson | Mr. Manas Ghumare |
| Vice Chairperson | Mr. Avishkar Gawde |
| Secretary | Mr. Ketan Beradia |
| Treasurer | Mr. Yash Bhatnagar |
| Membershi Chair | Ms. Shrutika Kenjale |
| Vice Membership Chair | Mr. Bhavesh Chaudhari |
| Publicity Chair | Mr. Siddharth Tiwari |
| Program Chair | Mr. Shreeraj Aher |
| Vice Program Chair | Ms. Sonali Pradhan |
| Reception Chair | Mr. Akash Yadav |
| Publication Chair | Mr. Jai Deshani |
| | |